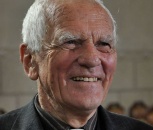 Prof. Petr Pokorný: 1933-2020
In the early morning of 18 January, Prof. Petr Pokorný, an outstanding New Testament theologian and Dean of our Faculty in 1996-1999, died after a short illness at the age of 86.
Prof. Pokorný was also a philosopher and historian, and was co-founder of the Centre for Biblical Studies of the Czech Academy of Sciences and Charles University. He was Director of the Centre in 1998-2010. His obituary with details of his professional career can be found here.
The funeral will be held in the congregation of the Evangelical Church of Czech Brethren in the Vinohrady district of Prague, address Korunní 60, on Saturday, 25 January 2020, at 14:00.
20 January 2020